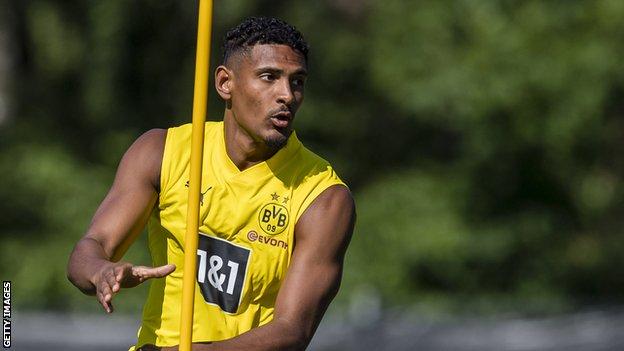 Sebastien Haller, a striker for Borussia Dortmund, has departed their preseason training camp in Switzerland after a testicular tumor was discovered.
The 28-year-old striker from the Ivory Coast transferred from Ajax to the Bundesliga team this month.
Haller "complained that he felt poorly after training on Monday," according to Dortmund, and following medical examinations, "a testicular tumour" was found.
The "coming days" will see additional examinations.
Tuesday, Haller stated: "Since yesterday's announcement, I appreciate all of your kind words and support. Thank you from my family and I. I'll now concentrate on getting better so I can return stronger."
Sebastian Kehl, the director of sports for Dortmund, said: "Sebastien Haller and everyone else were shocked to learn this information.
"The entire BVB family wishes Sebastien a speedy and complete recovery so that we can hug him once more.
We'll exert every effort to make sure he receives the best care possible.
Jude Bellingham, a midfielder for Dortmund, and Declan Rice, a former teammate of Haller's at West Ham, were two of the individuals who tweeted their support.
"Stay strong and get better soon, brother, we're all with you," Bellingham said.
Rice stated: "I'm thinking of you, my brother! I'm hoping for a quick recovery for you."